Chinchilla expert contributors
The welfare needs of chinchillas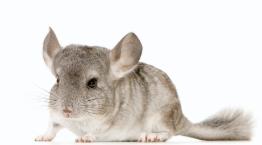 The RSPCA would like to thank the following experts for their involvement in producing information on the welfare needs of chinchillas.

Main Consultant
Anna Meredith (MA VetMB CertLAS DZooMed MRCVS)
As the main consultant, Anna Meredith was responsible for authoring information on the welfare needs of chinchillas. She also liaised with an expert panel who reviewed this information and was responsible for collaborating with the panel and incorporating their comments into the final document submitted to the RSPCA's companion animals department.

Anna Meredith is a Senior Lecturer and Head of the Exotic Animal and Wildlife Service at the Royal (Dick) School of Veterinary Studies, University of Edinburgh. She is a Royal College of Veterinary Surgeons (RCVS) Recognised Specialist in Zoo and Wildlife Medicine. Anna lectures and publishes internationally on all aspects of small mammal health and welfare.
Expert Panel
The expert panel was made up of five recognised experts in chinchilla veterinary medicine, behaviour and welfare. The panel provided expert advice and reviewed the information authored by the main consultant.

Dr Anne McBride (BSc PhD Cert.Cons)
Anne is a Senior Lecturer at the University of Southampton where she is Director of the Postgraduate Diploma/MSc (Academic) in Companion Animal Behaviour Counselling. Her PhD was on the social and parental behaviour of rabbits. She has particular specialist interest in human-animal interactions and the behavioural aspects of welfare of small mammal companion species.

David A. Crossley (BVetMed PhD MRCVS FAVD DipEVDC European and RCVS Recognised Veterinary Dental Specialist)
David Crossley qualified as a vet in 1978. He specialises in veterinary dentistry and has had a special interest in continuously growing teeth. His PhD subject was dental disease in chinchillas.

Emma Magnus (Bsc, MSc, CCAB)
Emma is a member of the Association of Pet Behaviour Counsellors, having qualified with a degree in Zoology and a Masters degree in Applied Animal Behaviour and Animal Welfare. Emma was one of the first in the profession to attain Certification in the UK as a Clinical Animal Behaviourist (CCAB). She has run a referral service for veterinary practices within East Anglia for 15 years.

Richard Saunders (BSc BVSc CertZooMed MRCVS)
Richard is the Bristol Zoo/Rabbit Welfare Association and Fund's University of Bristol Rabbit Resident Veterinary Surgeon. He has spent 15 years in small animal, exotic and wildlife practice, and has a special interest in rabbit and rodent medicine, surgery and welfare.