Rabbit expert contributors
The welfare needs of rabbits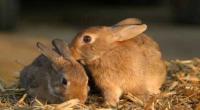 The RSPCA would like to thank the following experts for their involvement in producing information on the welfare needs of rabbits.

Main Consultant
Anna Meredith (MA VetMB CertLAS DZooMed MRCVS)
As the main consultant, Anna Meredith was responsible for authoring information on the welfare needs of pet rabbits. She also liaised with an expert panel who reviewed this information and was responsible for collaborating with the panel and incorporating their comments into the final document submitted to the RSPCA's companion animals department.
Anna Meredith is a Senior Lecturer and Head of the Exotic Animal and Wildlife Service at the Royal (Dick) School of Veterinary Studies, University of Edinburgh. She is a Royal College of Veterinary Surgeons (RCVS) Recognised Specialist in Zoo and Wildlife Medicine. Anna lectures and publishes internationally on all aspects of rabbit health and welfare.

Expert Panel
The expert panel was made up of five recognised experts in rabbit veterinary medicine, behaviour and welfare. The panel provided expert advice and reviewed the information authored by the main consultant.

Dr Anne McBride (BSc PhD Cert.Cons)
Anne is a Senior Lecturer at the University of Southampton where she is Director of the Postgraduate Diploma/MSc (Academic) in Companion Animal Behaviour Counselling. Her PhD was on the social and parental behaviour of rabbits. She has particular specialist interest in human-animal interactions and the behaviour aspects of welfare of small mammal companion species. She is the author of the books 'Rabbits and hares' and 'Why does my rabbit...?'

Brigitte Reusch (BvetMed (Hons) CertZooMed MRCVS)
Brigitte is the first lecturer in Rabbit Medicine and Surgery in Europe, based at the University of Edinburgh. She has over 6 years of experience in treating rabbit medical and surgical conditions.

Dr Jonathan Cooper (BSc PhD)
Jonathan is a principle lecturer at the University of Lincoln. He gained a PhD in stereotypic behaviour at Bristol Veterinary School, followed by postdoctoral work at the University of Edinburgh on animal motivation and the University of Oxford on the behavioural needs in farmed mink. He is currently working on investigating the causes and effects of apparently abnormal behaviour and behavioural needs including the spatial requirements of rabbits.

Dr Laura M. Dixon (BSc (Hons) PhD)
Laura is a Postdoctoral Researcher at the Scottish Agricultural College. Her main research interests are determining the motivation behind abnormal behaviours and assessing motivation for various resources. She has recently finished a project at the University of Lincoln, funded by the RSPCA, which investigated the spatial needs of pet rabbits using consumer-demand type experiments in which the rabbits' motivation for different sized enclosures was measured. Currently she is part of a study designed to assess how aversive hunger is to feed restricted broiler breeder chickens using Conditioned Place Preference/Aversion techniques.

Richard Saunders (BSc BVSc CertZooMed MRCVS)
Richard is the Bristol Zoo/Rabbit Welfare Association and Fund's University of Bristol Rabbit Resident Veterinary Surgeon. He has spent 15 years in small animal, exotic and wildlife practice, and has a special interest in rabbit and rodent medicine, surgery and welfare.