Reports and resources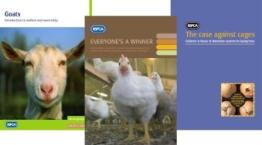 Our scientific / technical team produces reports, booklets, information sheets and submissions in response to consultations by government and other organisations on a range of issues relating to farm animal welfare. A selection are available on this page to download.

The welfare state: five years measuring animal welfare in the UK 2005 - 2009, is the latest welfare state report. The welfare state reports assess how the nation is currently performing with regard to the welfare of animals, and whether the situation is changing over time. The report contains a number of indicators covering the welfare of farm animals. Download the Farm animals section (PDF:596KB).

Watertight report. March 2015 (PDF)
The case for providing farmed ducks with full body access to water.

RSPCA response to the FAWC consultation on a long-term strategy for farm animal welfare in the UK (PDF)
The RSPCA's response to the FAWC's consultation on a long-term strategy for animal welfare in Great Britain.

Everyone's a winner report (PDF)
RSPCA report providing evidence that rearing chickens to higher welfare standards can benefit the chicken, producer, retailer and consumer.

Coming of age (PDF)
Report detailing independent research commissioned by the RSPCA into the age structure of UK cage egg production facilities.

The case against cages (PDF)
RSPCA report detailing evidence in favour of higher welfare barn and free-range systems for laying hens.

RSPCA welfare standards for farm animals (PDF)
Information on how we develop our detailed welfare standards and the documents to download.

An introduction to goat welfare and ownership (PDF)
Advice for novice owners on the care and welfare of goats.

If you're looking for more information about farm animals, including how they are farmed, the welfare issues that concern us, and what we're doing about them, please visit our all about animals area.
---